Antibody Services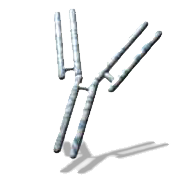 CASLO offers complete anti-peptide antibody packages at very competitive prices. Rabbit anti-peptide antibodies are made according to standard protocols or customer specifications. Antibodies are delivered with detailed product reports, ELISA certificate and titer guarantee. Please send an e-mail, or fill in the contact form, with your request, and we will get back to you with a detailed project description and price quotation within 24 hours.
CASLO can assist with identification of the correct amino acid sequence for immunization.

CASLO offers a complete anti-peptide antibody package with peptide synthesis, peptide purification to a purity higher than 85%, conjugation to KLH carrier protein, immunization of one New Zeeland White Rabbit (two or more can be arranged), isolation of preimmune and specific sera, ELISA screening against the peptide, delivery of preimmune serum, specific serum and lyophilized peptide.

Serum is delivered with detailed product report, ELISA certificate and titer guarantee.

Possibility for affinity purification of sera.

CASLO offers a phospho-specific antibody package, please request.